Getting to Orkney involved: dropping off a car rental in Inverness, taking a cab to the train station because (of course) they aren't conveniently located, a train from Inverness to Thurso, a cab to Scrabster (where we sat in a pub for a few hours), got on a ferry, had a problem with the car rental agency so we got on a bus to Kirkwall, and took a cab to the guest house.
Basically, every form of current land travel known to man except farm equipment and rickshaw.
We figured out the car rental problem the next day.
Internet access is in high demand here, and the connection is slow so I may get a bit behind in blogging.
These first two days (sunday and monday) have been jam packed with activities.
Spent several hours wandering around downtown Kirkwall, and had lunch at a lovely little bistro.
Then we did some driving around the countryside - the Orkneyinga Saga Centre (which we didn't know existed until we got here), and Earl's Bu and the Orphir Church (which were right beside it). Link to all three
here
.
We also visited the
Ring of Brogar
, and the
Stones of Stenness
. It might be hard to reach the mind set of the people who built these things - it was nearly 4000 - 5000 years ago - but if you're at all sensitive to .... let's call it "power" shifts in the universe....it's abundantly clear at the centre of the rings, even as broken down as they are today.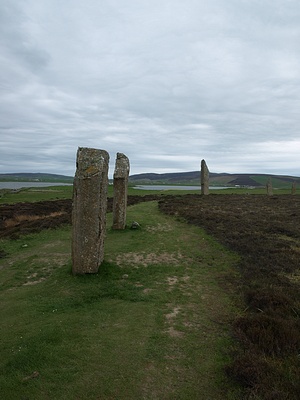 Monday, we got up bright and early and went off to the Brough of Birsay. The Brough is on a tidal island so seeing it is dependant on low tide. And it was fantastic! Lots of the remainders of a Norse settlement - which I could almost reach to, but Neil totally could imagine a Norse village and their lives.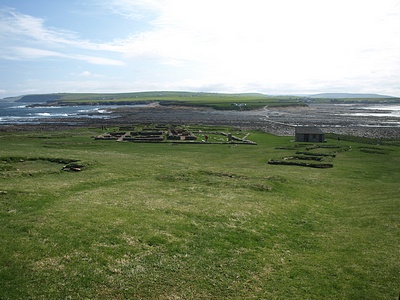 We also saw a dead dolphin and a dead fish washed up in a cliff's cleft at low tide. Kind of icky, but part of life.
I swear the wind was trying to kill me today and my brain starting functioning on half mast after the Brough, but we kept going.
Earl's Palace
(15th century, not as interesting for us),
Skara Brae
and Skail House, and then
Maeshowe
. Neil's been finding new kids' Viking books all over this trip - the gift shop at Skara Brae was no exception.
The gift shop there also had a few other things, which I haven't bought so you'll have to be content with a photo. That's right - Viking bath oil, herbs, shampoo.... too funny.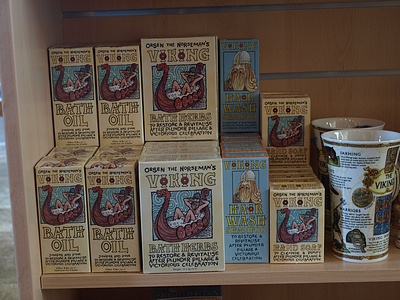 Unlike the picture in the link to Skara Brae, the public is no longer permitted to go into the structures - we must stay on a path around the perimeter. They are starting to become more concerned about preservation of the site. However, they have built a replica of the most detailed house near the visitor's centre and it is quite impressive in itself.
The guide at Maeshowe was absolutely delightful and really brought the place to life. No pictures were allowed inside the tomb but the Viking graffiti was right there, right in front of me. I could have touched them - I don't know why I didn't! But it's okay, there's a book that we bought that has great photographic plates of every last one of the 41 runic inscriptions found.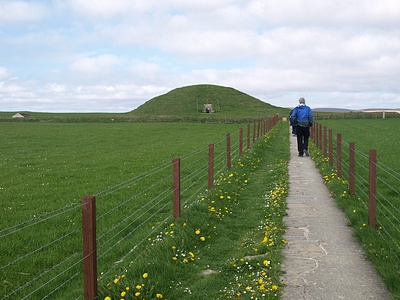 Neil thought the guide's pronunciation of the english translation of the runes in a Yorkshire accent was pretty funny. I was just grateful I could understand him easier then the Orcadians.
Don't go here if you're claustrophobiac - the entrance walkway is 10m (30 feet) long and only 1m (3 feet) high. The chamber itself is tiny, and deeply inside a hill.
Do go here if you love really _feeling_ history!
Karen