Well, we're stuck in a bar in Scrabster, waiting for the ferry. Two hours before the restaurant next door opens, and three hours before the ferry starts boarding. Four hours before it actually leaves. It's an hour and a half crossing - we could go there and come back in the time it'll take us to wait for it. I'm composing this in a text file because there is no internet connection in the bar.
This is one of the more annoying points in the travel. 'Though I think the worst of it is the travel that we found out (long before we left) that we couldn't do. Our plan is actually to get up to Shetland, and we had wanted to take the ferry from Shetland to the Faroes Island and then to Iceland, but they canceled the Shetland to Faroes link. No crossing of the Atlantic in the footprints of the Vikings.
Instead we'll need to take a ferry from Shetland down to Abeerden and drive back to Glasgow to pick up a plane at the International Airport.
So.... to continue the chronology then, since I haven't blogged in a few days, we woke up a few mornings ago, and started off bright and early at the
Scottish Crannog Centre
.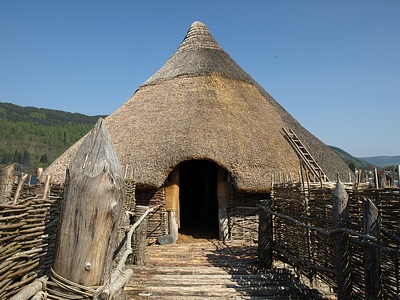 Crannogs are these things that were set out on the water in lochs all over Scotland in the Iron Age. People lived in them and used the waterways for transportation. It's not really our time period of interest, so I can't give you many details.
There is some carry over into the Viking Age however. This is a warp-weighted loom.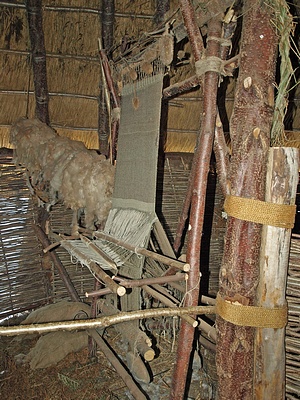 The guide was careful to say that we don't actually know what kind of loom they used, since we've made no actual discoveries of intact looms, but the same problem exists in the Viking Era as well. Things that might be loom weights have been discovered, and there's a sketch on a Roman vase that looks like a warp-weighted loom (link). This particular loom hasn't been used since they set up the Crannog centre, some 10 years ago. Pity they don't have a weaver on staff.
And honestly, that's my only criticism. This was a fantastic place, with great hands-on interpretors/guides and things that we could try out for ourselves. Like this bow-drill...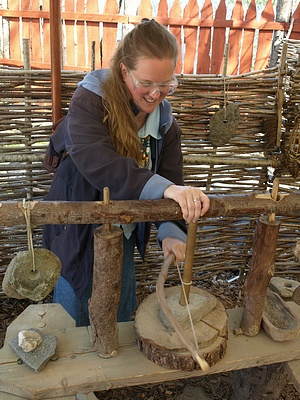 Our next stop was the
Edradour Distillery
, one of three distilleries that we've visited so far, and the smallest in all of Scotland. Neil picked up a bottle, of course. I must admit that I fail completely to understand why he wants to lug bottles of whiskey around for the rest of the trip, but I suppose that's one of those things that one just ... accommodates in a marriage.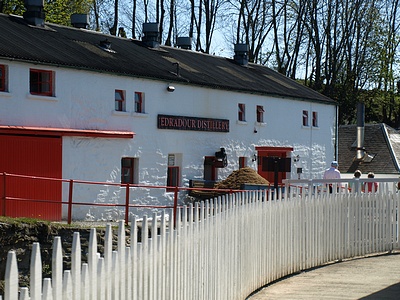 He finds my attachment to things that grow amusing. If I thought I could take plants home successfully, I probably would.
This beautiful burst of colour is growing all over the highlands.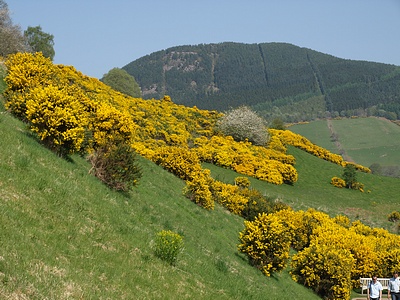 Here's a closeup - it's called
Gorse
. I'm going to try to buy some back home and install it in the garden. It's very pretty. (edited later: Hmmmm.... just got to an internet connection and looked it up - invasive by seed dispersal. I'll have to think on it.)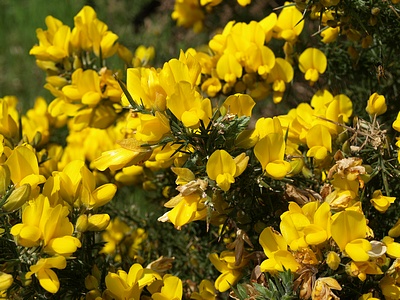 We drove some windy narrow roads at decent speeds that often weren't fast enough for the other drivers, and eventually arrived in Inverness at this delightful guest house called the
Trafford Bank Guest House
Lovely rooms and genteel breakfasts in the sunroom, a very helpful hostess, and many modern amenities like Sky TV and ipod docking stations in the rooms. My only wish might have been for a softer mattress.
We spent two nights in Inverness, and the intervening day driving around the countryside. We had many plans but weren't able to achieve nearly all of it. Everything closes up shop at 5:30pm so it's often difficult to fit everything in.
We did get to
Urquhart Castle
which has a great visitor centre and brief history of the castle, before letting you out to see what's left of it for yourselves. As a centre of power, Urquhart is dated back to Columba visiting Picts to convert them to Christianity somewhere in the range of 560 AD. It is not known exactly when the castle itself was built but apparently some records refer to it in the early 1200s, and it finally blown up in 1692 to prevent it from being used as a base for the Jacobites.
It's on a promatory in the middle of Loch Ness, but sorry.....no monster sighting. :)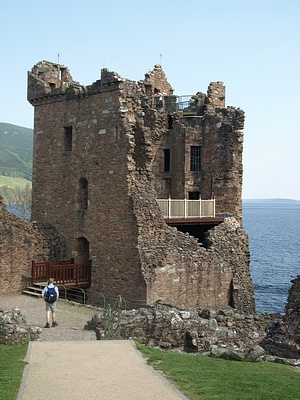 I found this fellow (Neil) leaning over one of the window sills...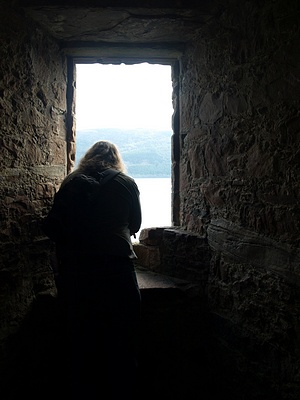 And later in the day, waving up at us from
Corrimony Cairn
. Corrimony Cairn is a short distance away from Urqhart Castle.
Corrimony Cairn is dated back some 4000 years ago, and is a passage grave in which the bones of just one occupant (probably a woman) were found. There's a circle of small standing stones around it. It's probably the strangest of our historical visits so far - it's just off by itself surrounded by sheep, almost in the middle of nowhere, with no visitor center or staff - just a single information sign.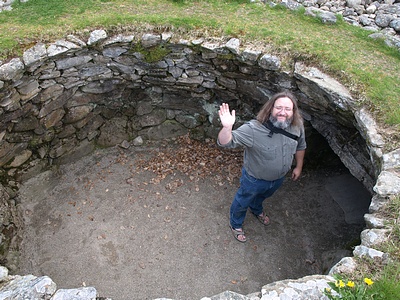 These people - the sheep - are everywhere in Scotland! On hills so steep it's a wonder they don't fall off of them, in little runs just barely on the outskirts of any given town. Everywhere - it's amazing.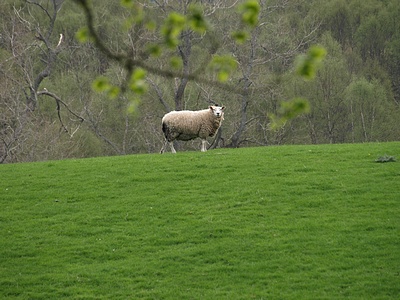 Today was a long day and is ending with us safely ensconed in Orkney. More on that trip later....
Karen