So.... Iceland, with pictures. My apologies for not getting to it sooner. I think I'm coming down with a cold - I hope not. Neil went out to pick up the rental car this morning and came back with vitamin C.
A few days ago, on Thursday I think it was, we arrived in Iceland. We wandered around a bit, went up to the bell tower of
Hallgrimskirkja
, had a delightful dinner at a place called the Tivoli and crashed. On friday, we hit some highlights in Reykjavik. The Reykjavik 871±2 exhibit, the National Museum and the Saga Museum at the Perlan.
The
Reykjavik 871±2
exhibit is very new. When the Hotel Centrum demolished an old building in the heart of the city to build a new hotel, they discovered the remains of a viking longhouse under it's foundations.
In 2006, the exhibit opened under the hotel. The stone walls of the house are still there, but they are difficult to photograph. The lighting is very low level in the exhibition. This is mostly to accentuate the high tech stuff they use around the foundations.
They have these neat little mini-screens around the walls that are motion activated. When you get near one, it turns on - this one has a ghostly blacksmith pounding on his anvil.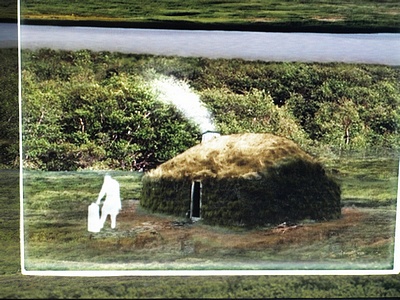 There is an interactive computer screen that takes you through what a longhouse might have looked like and how it was constructed. You create the different sections of construction as you move your finger around the control panel.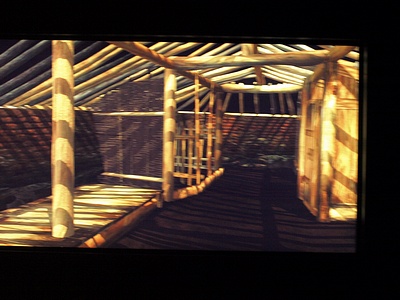 There were also computer touch screens with more conventional written texts on genealogy, the evolution of the language, foodstuffs, animals and textiles in the Viking Age. There were some artefacts in display boxes, and also an interactive computer table model of the longhouse.
Overall, decently impressive but unexpectedly high tech for the Viking Age.
The National Museum, on the other hand......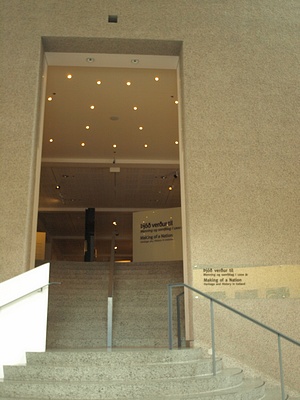 This is the only picture they would allow us to take. Just inside the front door. It's impressive architecture, this new building, but that's where it stops.
No photos allowed, no artefact numbers in the display cases, very little information on any given piece. The museum text was written to provide context, without specific details.
And then we ended the day with a visit to the
Saga Museum
at the
Perlan
. No pictures allowed at this place either, but I didn't mind as much. There were no artefacts - it's life-sized figurines in fixed tableaux, mixed with an audio tour. The audio tour was quite decent, but the figurines reminded me of the wrinkly people.
Saturday, we went on the
"Golden Circle"
tour of Iceland, offered by
Reykjavik Excursions
.
The first stop was Kerið - a 6 thousand year old extinct volcano crater with a lake in the middle. Some tourist types got caught on film, together even.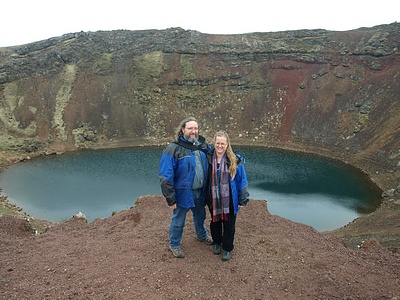 Gullfoss is their "Queen" of waterfalls, tumbling down a deep gorge. It's hard to describe or even understand Iceland sometimes - this waterfall is a good example. I took lots of pictures of it - this is the best overall one. But it doesn't let know you the sheer pounding force of it, or that you can almost climb right up to it. Do you see that ledge that the arrow is pointing at? We were walking on it.
Iceland doesn't yet have (and I hope they never do) North America's sheer paranoia about safety and lawsuits. The "safety" barrier is a rope about six inches off the ground, and Neil and I couldn't decide whether they were trying to say "past this point is unsafe for you" or "don't ruin our waterfall by making these rocks fall in with you".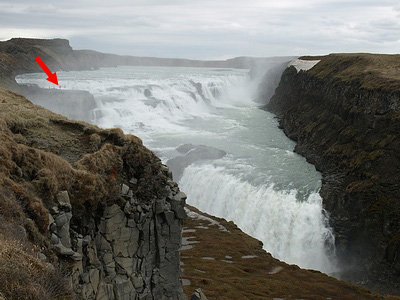 The
Geysir area
is a geo-thermal field where hot springs bubble and geysirs burst. Little geysir here mostly just spurts a bit now and then, but you can see the guide rope, it's name and the geysir - "go past this guiderope and you are stupid and deserve whatever you get" seems to be all they need.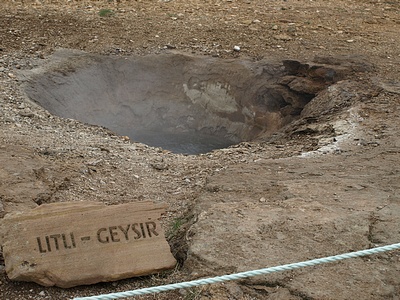 We spent some time on this geysir, trying to get just the right shot at it's moment of bursting. There's this strange luminescence in the water just as it bursts. This one is called Strokkur and it bursts pretty much every 5 minutes.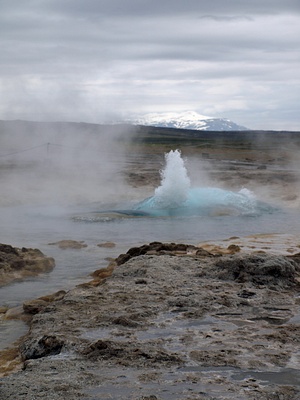 This is Strokkur at it's height.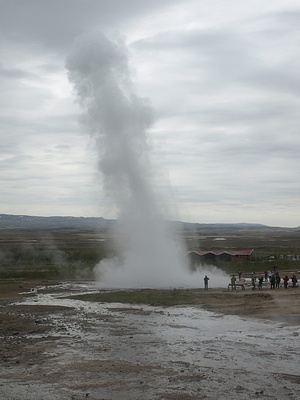 And last, but not least, Þingvellir National Park. We'll be spending two days up there near the end of the week so expect to hear more about it then. Þingvellir is the place where the Norse gathered every year to hold their Alþing (central meeting where disputes were settled and laws made).
Sunday.....we went on the "
Saga Circle
" tour - which bored me quite a bit more then I expected. It was a long trip (maybe it's just that two in a row of these trips isn't a good idea), in a cramped bus, with a guide alternating between "Scandinavian" (a mixture of Swedish an Norwegian) and English so seamlessly that I couldn't easily tell when to wake up and start listening again.
I thought the tour would touch on Viking stuff but apparently Saga stuff is something only sort of related. The highlights of this tour were the icelandic poppies at the Snorri Sturlson (an important 13th century saga writer) museum.....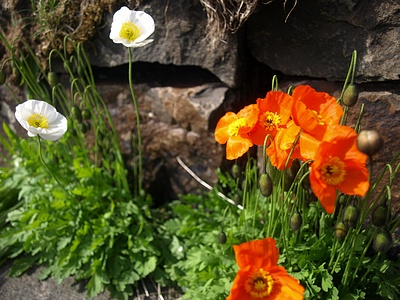 .........and Deildartunguhver, the largest hot spring in the northern hemisphere.