This is going to be a very very long post. It's been a few days since I travelogued and I need to catch up. Bear with me folks.
-----------
Now, as previously noted in the comments - for those who use them *cough* *hint* - Orkney fudge wins with two thumbs up.
And it can be bought here:
http://www.buyorkney.com/shop/food/confectionery/

-----------
I found a drop spindle yesterday! I had found some North Ronaldsay rovings in Orkney several days ago and I've been regretting leaving my drop spindle at home.
Apparently they take their sheep quite seriously in North Ronaldsay - they are fenced _away_ from the grass on the land and eat seaweed on the beaches instead. Those with experience and discerning palates convey the idea that this significantly changes the taste of the meat. I've tried it, and I didn't notice the difference. Mind you, I don't have a great deal of experience with eating sheep.
The North Ronaldsay people also seem to be the only ones who understand that hand spinners still exist. I've found very little in the way of wool available for spinning. While there's a huge knitwear industry here in Shetland, it seems that it goes straight to commercial mills for industrial spinning, with a little made available for felting crafts. What's made available to crafters for felting isn't usually suitable for spinning - it's already semi-felted.
----------
Anyway, I'm digressing, and you want pictures of all these days since I left off in Orkney.
We visited the
Italian Chapel
. It's not really our thing, but it's story is interesting, and it was pretty enough.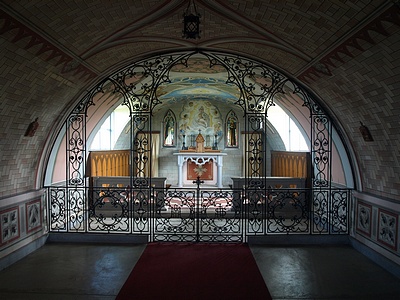 On our way to the next stop, we came across this Blacksmith's museum in St.Margaret's Hope. I have blacksmiths in the family, and one of our closest friends is still a blacksmith. He doesn't use this kind of bellows anymore. :)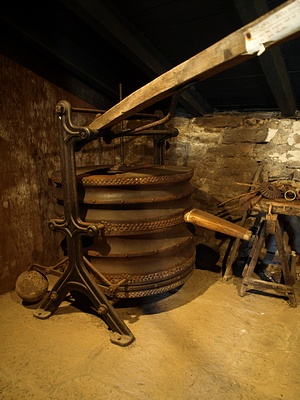 Tomb of the Eagles
was notable in that it's entrance is only 1 metre high. They provide a trolly and a rope for you to lie down on and pull yourself through the doorway. This is another site with a warning to people who suffer from claustrophobia!
Unfortunately, it was also our biggest disappointment. It's a privately held site, and is not run by
Historic Scotland
or any other professional historical society, and it shows. The short version is that we had some difficulty with the interpretation of finds and handling of artefacts.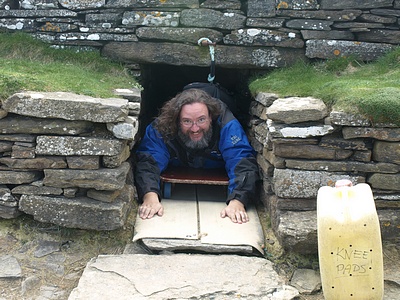 We finished up that day with a visit to the Orkney Marine Life Aquarium. We expected to find very little, but it was actually a very interesting place! Tons of information, and staffed by the owner who is obviously knowledgeable and cares about her aquatic friends. Some of the marine life is actually rotated through the exhibits on a catch, display, and release cycle.
It was a pleasant end to a day that was otherwise somewhat disappointing.
Started off the next day at the
Broch of Gurness
, which I quite enjoyed. Neil had a "shrug" moment. I think I heard him muttering something about "more rocks". It was, not surprisingly, windy. I quite enjoyed hiding in the remains of the wheelhouses where the wind was completely absent and it was really easy to imagine how the people of the day lived.
More stone = more remains. In this picture, we can see the firepit, an oven (hot rocks from the fireplace boiled the water and meat = most meals), and part of a quernstone, used to grind the grain to make bread. Quernstones of some sort follow us into the Viking Age and I've quite enjoyed playing with them whenever a historical site has one set up for demonstration.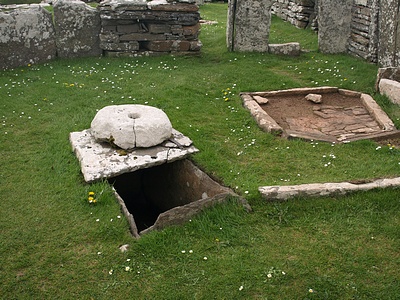 The Broch of Gurness is also the site of one Viking Era burial, near the edge of the entrance to the broch from the sea. It's unclear whether the Norse used the site for a bit, or just pulled up and buried this woman and then took off again.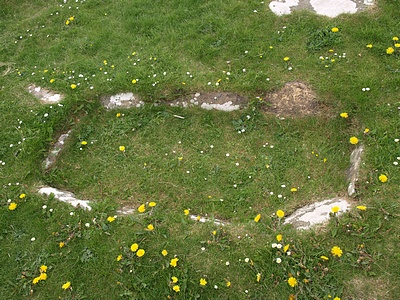 Minehowe
has no pictures. I couldn't get the picture that someone else did on the Undiscovered Scotland site. It's just 29 steps down into the earth - yet another site that is not for the claustrophobic. They give you hard hats when you go out to climb down the steps. At the bottom of the steps, there is enough room for two people and that's it.
Neil enjoyed talking to the staff here - it's apparent that archaeology on the site is still in it's early stages.
St.Magnus Cathedral
was interesting in that it's architecture is _very_ similar to the Dunfermline Abbey but the entire cathedral is still in use. The modern lighting that has been added made it very difficult to take a good picture of the interior. It is NOT Viking era as you may continually read in many promotional literature, but it may have been influenced by later period Norse earls in Orkney.
The
Orkney Museum
had a few interesting things from the many different archaeological sites on the islands although I'm not sure that I liked their presentation of the use of drop spindles. It is more then amply possible to spin consistent fine yarn on these things - I've done it. This is just ....in incredibly poor taste.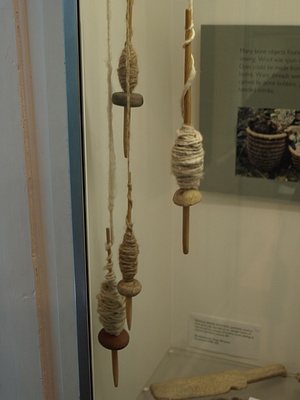 And in this picture.... both of the stones with holes in the middle are listed as loom weights. Somehow, I doubt it. The one on the right is simply far too large and heavy. I'd be more prone to believing that it's a small quernstone.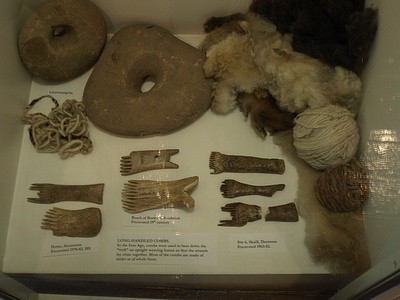 So..... on to Shetland. As previously noted in another post, there was some travel and some delays. We went to the Shetland Museum and Archives while waiting to achieve keys to our next place of stay.
This is a great new museum with some really interesting stuff. Like these beads, from a find at Northmavine, Shetland. And unlike both the National Museum of Scotland and the Orkney Museum, this place had artefact numbers easily available!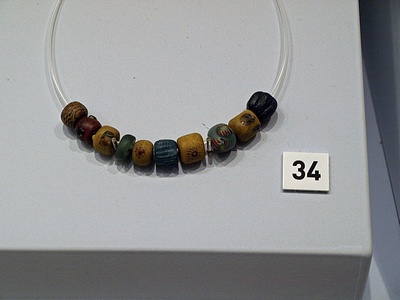 This gold ring is what Neil used as his guide when he went to a jeweller to say "make something like this with diamonds in it so I can propose to my chick". It's from a find at Marrister on Whalsay in Shetland.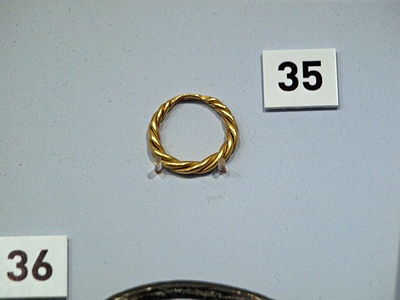 Lerwick also has this lovely garden in the middle of town. I read the dedication sign so I know why it's there, but I can't remember it at the moment. I just like pretty flowers.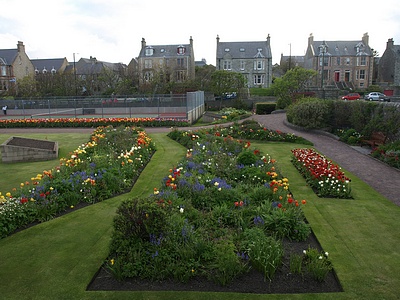 This is the outfit used in January 2008 by Up Helly Aa's Guizer Jarl (parade chief), Roy Leask. He was representing a later era saga figure Kol Kolison. We actually met Roy when we toured the
Up Helly Aa
exhibition shed - he's an interesting guy. Reminds me a lot of the chief librarian at my library.
The short version of describing Up Helly Aa is that it is.... a world apart from actual Viking Era history. It grew out of the Victorian Era, which has done many strange things to Viking history. If you think of the festival as Living History, you need to think of it as living _Victorian_ history.
In Shetland, the biggest site of Viking Era findings is at
Jarlshof
. Jarlshof is a multi-use site, meaning that it was continuously occupied over thousands of years and several different cultures from the Stone Age, Bronze Age, Iron Age, Pictish, Norse and Medieval eras, right the way through to the 1600s. Again, I find myself more drawn to the wheelhouses and brochs of two thousand years ago then the Viking Era Norse houses that remain here.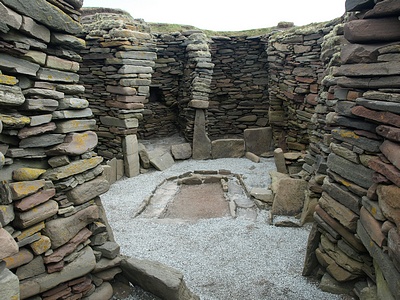 Neil, of course, remains attracted to the Viking Era side of things. He's standing in the middle of the longest of the longhouses found here. Perhaps it was the community hall, or just the home of the wealthiest farmer in the area.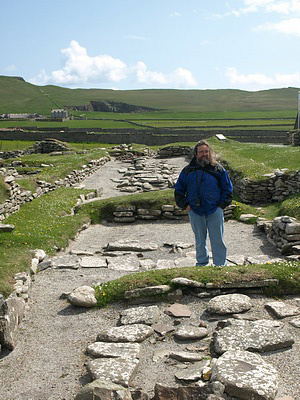 I keep finding sheep that want to have their picture taken. This youngster was quietly semi-sleeping, having finally filled his belly. I think that's all the sheep do - eat grass and sleep. I know it's a bit of a filler really, in a post already heavy with pictures, but I thought it was a pretty picture. Don't you just want to take her home and .... shave her repeatedly over several years for the wool?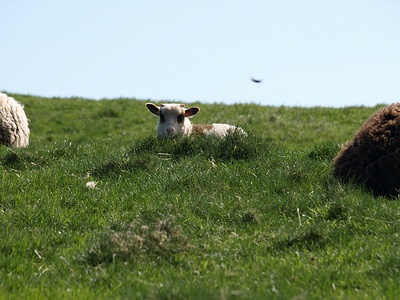 This lamb has a different story. She's just a couple weeks old and was found wandering by the fellow who was staffing the
Shetland Crofthouse Museum
. He's been hand-raising her, and needs to feed her four times a day. She follows him around everywhere so he takes her to work too, where we found her warming herself by the peat fire inside the Crofthouse.
Neil says the crofthouse reminded him a lot of the sod houses in the early Canadian west.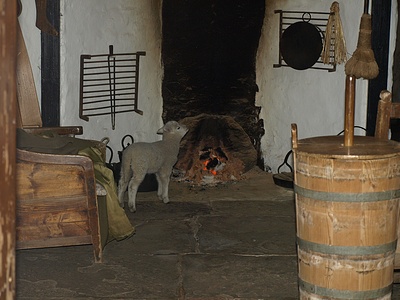 Imagine sailing around the Shetland Islands in the later centuries BC, and coming across this imposing feature. It says "powerful people live here". And it's still standing today, sufficiently intact that you can take the interior steps all the way to the top, where you can see the landscape for miles all around.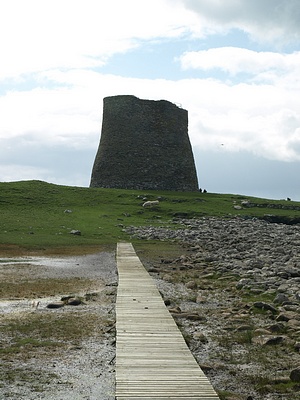 It's BIG. It's the only remains of it's kind in this good a condition, largely because of it's remote location. The island of Mousa is currently unoccupied, except by the inevitable sheep and many other wildlife.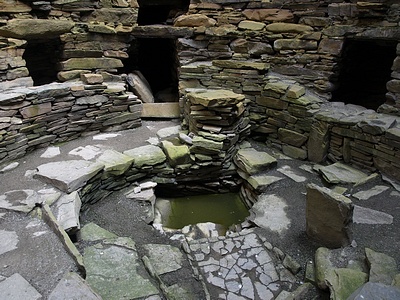 This is
Mousa Broch
. It stands an imposing 13 metres high on the landscape. It has two walls - both quite thick in themselves, with an interior staircase running between them for stability and access to the top. At it's base, the outside width is 15m across, but it's interior width is only 6m.
It's thought that there were wooden floors at different heights, somewhat like balconies, to increase the living space, but nothing of wood remains. If there was a community of smaller houses around the site, they have not yet been uncovered. Strangely enough, no one has undertaken an archaeological dig here.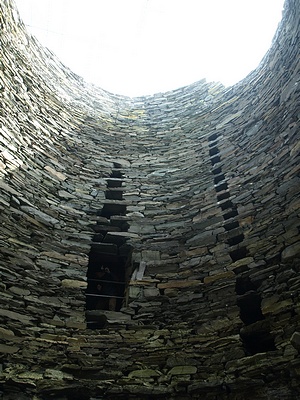 The island of Mousa is also a nature preserve. We did the entire circular walk (about a mile and a half), and spent some time trying to capture the various wildlife we could see. These are the two shots I'm happiest with - I need a larger lens for the camera!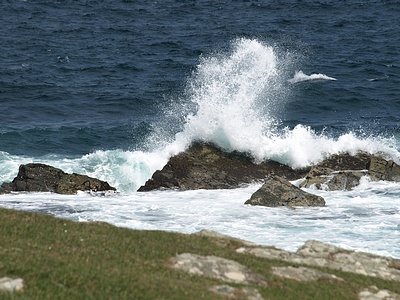 We saw seals, and tons of different kinds of birds. I'm not a birder, by any means, but I did spend some time trying to catch the birds in flight. *sigh* This is my best shot of them. I'm going to add "tripod" and experience to the list if the next vacation includes wildlife.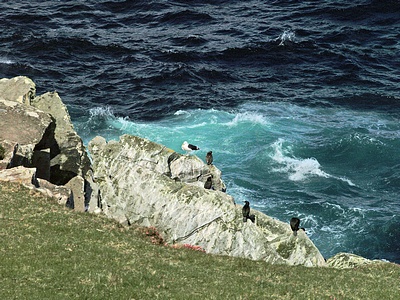 And finally, we conclude with
Old Scatness Broch
. Neil calls this our most surprisingly find. Yet another Broch, yes? Well....yes. But it's still being dug, and pieced together for the tourists to visit, and staffed with a very strong interpretive program. Very enthusiastic people who really know their stuff, some of whom double as students in the archaeological program at the University of Bradford, which conducts the digs.
Unfortunately for me, the weaver had the day off, but I looked through her stuff. I'm quite impressed by the work she's done on the loom. The dress to the right of the loom was made on her loom.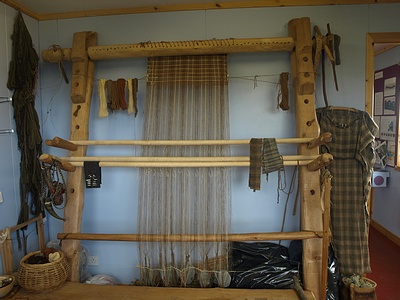 *Whew* and now that I've finally caught up... we get on a ferry tonight at 7pm to leave Shetland. See you at the next stop!
Oh and btw, this post took a long time to write and I wouldn't be surprised if I missed something here or there, so feel free to ask me questions! Hit the word "comment" underneath the post, it's a link - follow the steps. :)
Karen