Today was much much better! Driving-wise, that is. I'd have to say I found the sights just as fun as yesterday.
We crossed back into Canada around noon, and immediately around the corner in St. Stephens, we sat down to the quintessinal Canadian lunch - at a Tim Horton's. Just across the street from Tim's, there was
The Chocolate Museum
.
"Presenting the story of brothers James and Gilbert Ganong, whose candy-making company built in the late 1800s continues today, the Museum offers hands-on exhibits, interactive computer displays that explain how chocolate and candies are currently made, collections of historic chocolate boxes and antique candy-making equipment."
Samples were part of the tour. Delicious!
There was an obligatory Chocolatier store out front, of course. I didn't spend a cent. And if you believe that.... ;)
Then we moved on to St.Andrews where the
Huntsman Marine Science Centre
is located. We weren't allowed to take pictures at the Chocolate Museum but I got a few at the Science Centre.
The seals were delightful. Chelsey, Buddy and Aurora are a small family. When the tourist season ends in two days, the young Aurora will either be moved to another Aquarium or introduced to the wild.
Aurora: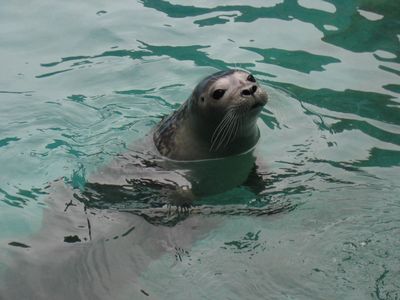 Buddy: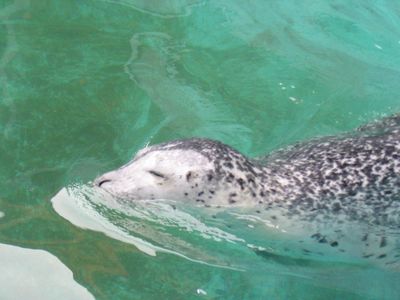 Chelsey: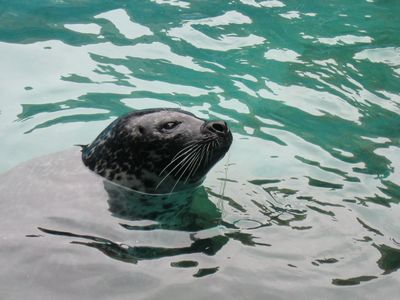 Buddy was a ham, showing off his swimming abilities...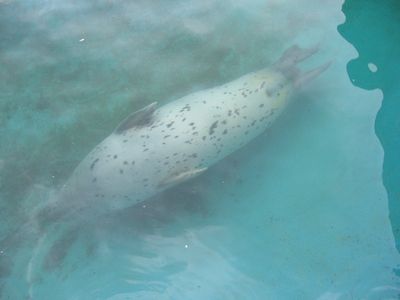 ...and lunging for the food.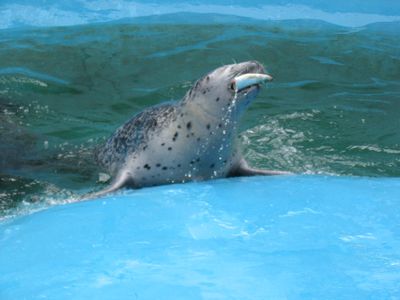 A few other folks made the pics as well, but as you can no doubt tell, Buddy stole the show. :)