This week I managed a two-fer!
For lunch, I mixed up this salad of all local ingredients from a place down the road called
Herrles
. It's a seasonal store, open only June - September and sells products from their own farm and others in Ontario. Herrles is sort of the centre of the "Buy Local! Buy Fresh!" folks from
FoodLink
.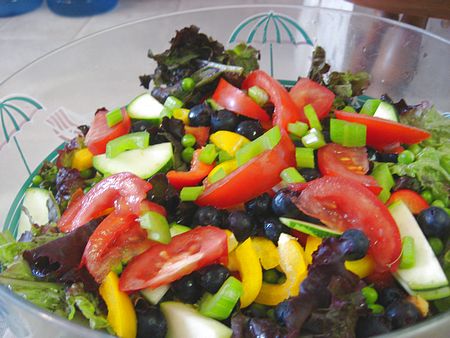 Romaine lettuce, saskatoon berries (local!, not from Saskatoon!), peas, yellow and red sweet peppers, tomatoes, celery, and zucchini. And for the man (who suffered greatly for the cause*) - I added hard-boiled eggs. I love the wild mix of colours!
*Neil believes that salads are the food that food eats. Not intended for eating directly. He did grudgingly admit that, for a salad, this one was quite good.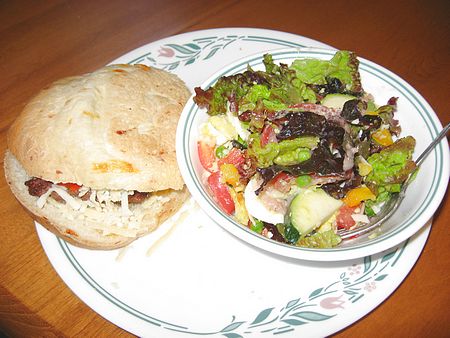 For supper, Neil barbecued some burgers (local cow from
Well Fed Food
, in Ayr). Now, he had a commercial bun from the grocery store (which could come from anywhere), but I had two slices of locally made cheese bread (sold at Herrles) as my 'bun'. And more of that wonderful salad on the side.
Oops, I almost forgot - even the raspberry vingarette salad dressing is local! Again, picked up at Herrles, it's made by Goodies Two Shoes in Shelburne, Ontario.
Karen