What are you thankful for?
I'm thankful that I'm Canadian and we get to do this holiday a month earlier then in the USA. :) More separation from Christmas = less stress.
Bogenschuetzenfest was it's usual mellow good time, although they moved the shooting site and it was a less then satisfactory change. More room for parking, less room for archery. Sorry, no pics this year.
I'm thankful for mellow good times, in great weather.
While we were out at Bogenschuetzenfest, the machine guy came by and finished spreading the mountains of topsoil in the yard as much as he could, given that the ground was still quite wet and the clay-based topsoil wouldn't spread well.
On Sunday, we begged off the family stuff on account of coming down with colds. No need to infect the relatives and lots of need to do work around the house while sniffling. We planted a lot of new acquisitions in the garden.
Here's a few pics of the remaining flowers.....the fall aster and mums were a pleasant surprise in the front garden. I do remember planting them, but I didn't think they'd turn out so well.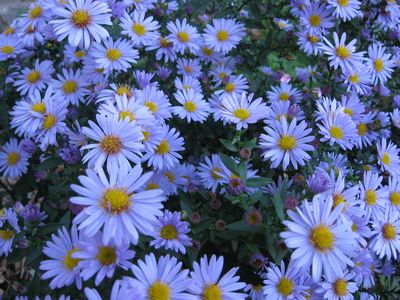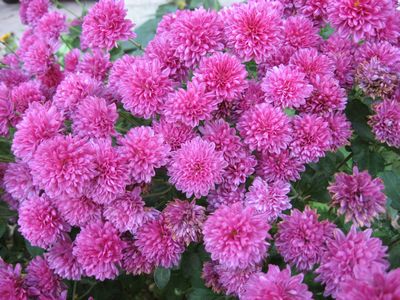 And these calendula flowers are quite simply the craziest things I've ever seen. They're still going strong, and they self-seed so abundantly, they are almost weed-like in their replication.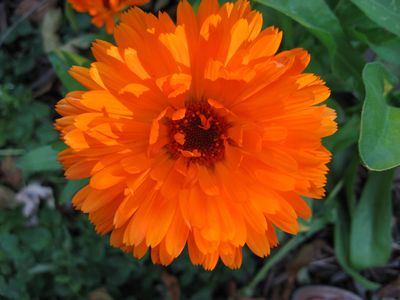 I'm thankful for pretty flowers. :)
Today, we managed to get fence posts up. Big holes, leveling, cement. It's the bare bones start of replacing the section that had to be pulled down to allow big machines into the yard to dig it up and put the septic in.
I'm thankful that we could afford to replace the septic.
A simple turkey dinner was achieved nonetheless - a breast for himself, and a leg for me. Dressing, potato, peas, and a pumpkin pie. Modern shortcuts were employed - microwave, frozen pie crust, and Stove Top dressing. I'm capable of doing it from scratch, with perfect ingredients but I'm low on energy these days and there's so much to do.
I'm thankful for turkey sandwiches for the rest of the week. :)
Karen