We finally pulled in mid-afternoon today. After several discussions along the way about stopping at various fun places like Cullen Gardens, Black Creek Pioneer Village, Richters Herbs or Ikea, because the opportunity was there, because we had the time... we both decided that we just wanted to get home.
Of course that also meant that we had to stop to get the dog, the cat, dinner stuffs from Zehrs, and the mail. But we finally made it.
Let's see now... I've promised pics since the smelting, several days ago. I've finally got it all arranged.
But first, the shoreline of Annapolis Royal on the morning of the smelt.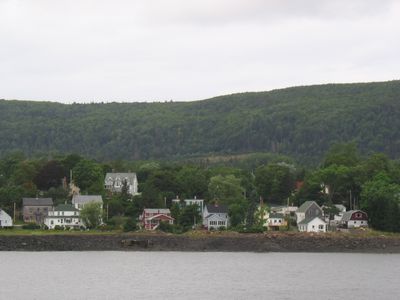 Before the smelt got started, we needed to have the ritual Jiffy Pop over the smelter as the pre-heat took place... that's our erstwhile leader Darrell, doing the honours.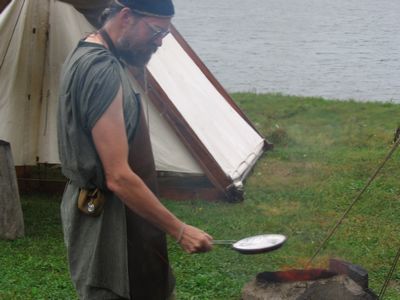 More details then you could ever want about the process of iron ore smelting in the Viking Era are available on the
DARC
webpages, under Projects, so I'll just give you some highlights here. Please remember that I take pictures, that I'm not technically oriented. I only superfically understand the science involved.
With a lot of hard labour pumping the bellows....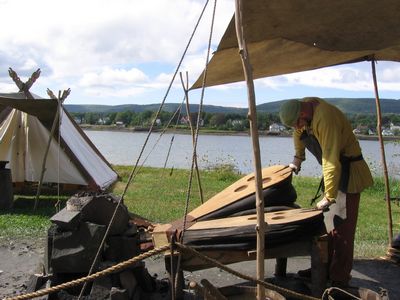 ...the smelting process gets started - iron ore is added, alternating with charcoal.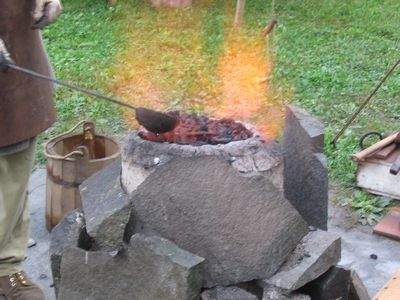 Skipping ahead a few hours of bellows pumping and adding stuff and monitoring the smelter (by the sound of it, and the glass runoff), the boys decided that they had failed this time around. And after some discussion, they even came up with a good
reason
for the failure.
So....they added an electric blower to compensate...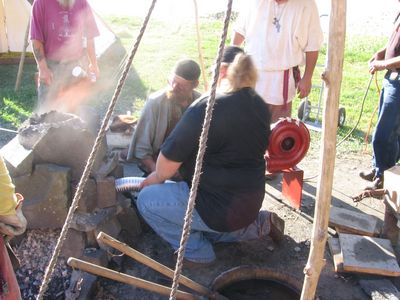 ...finally got the glass slag runoff they were looking for...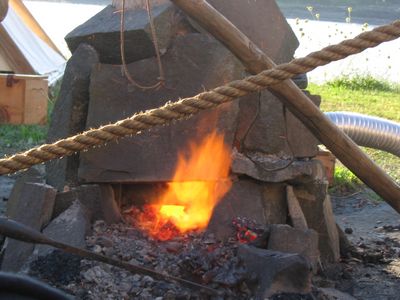 ...and eventually came up with a bloom...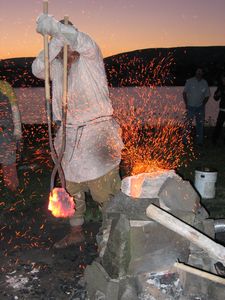 ...which Kevin and Mark ...
...proceeded to beat in order to consolidate it.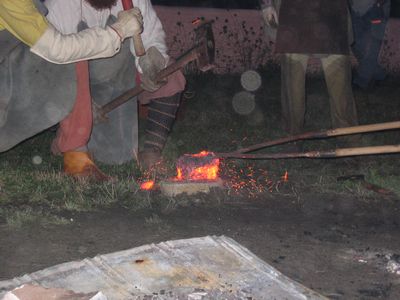 The final product, last seen below, is much smaller and compact then it comes out of the smelter.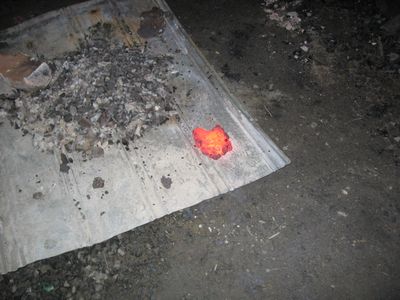 When we woke up the next morning, we had found that someone had stolen the bloom!
We think it was the Weird Guy (there's one at every exhibition, it seems), since he disappeared that morning as well.
But how disappointing is that?
Karen