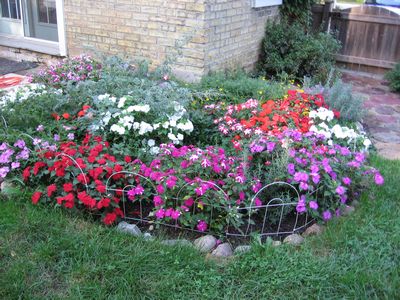 The most recent picture of my newest garden space - one of three new spaces that I made this spring. And the single most full sun garden possible in my yard, since it is full of large old trees. As you can see, the impatients have had a huge visual impact.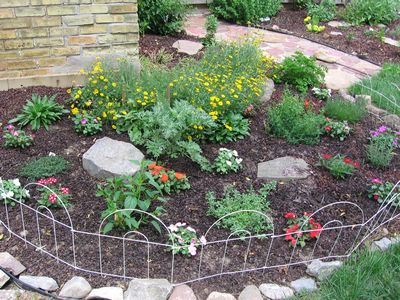 This is what the same space looked like much much earlier in the year. You can tell then that are actually other plants in the garden!
Wormwood, golden marguerite, woad, weld, lemon thyme, skullcap, st.john's wort, feverfew, rosemary, lemon balm, pennyroyal, dyer's broom and alkanet are the other plants - all herbs. Some are dye plants, some are medicinal.
The home store of
Richter's Herbs
isn't that far away from me. While they largely focus on selling seeds online, the store also has baby plants. I have not had good luck with seeds, but baby plants are awesome starters!
As wonderful as the garden looks this year, I want to make major changes (again!) next year. This is also the garden that is closest to the back door of the house. It isn't making sense to me to put dye plants and medicinals that close to the house, when they aren't used as often as the vegetables. So my thought for next year is to move some of those out, and the tomatoes and green peppers in. Right now, the tomato and green peppers are the furthest out from the house.
But I'll be posting a more comprehensive garden assessment in a few days.
-------------
I made more pies yesterday. This time I took pics. :) This time my major problem is that they were -too- moist. I had to pore off excess moisture. I'm sure I'll get the hang of it soon enough. I'll just have to keep practising - oh gosh, the torture of it. ;)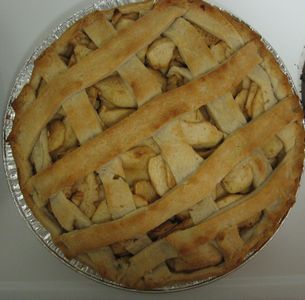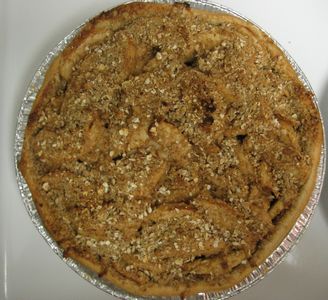 Both are apple pies - one has a pastry string top, and the other an attempt at the dutch apple crumble top. I say "an attempt" because I don't really have a recipe around for it. I just went on instinct - oats, brown sugar, cinnamin, nutmeg, and a little margarine to make it stick together.
Please feel free to give me pointers on both pies and gardens. :)
Karen