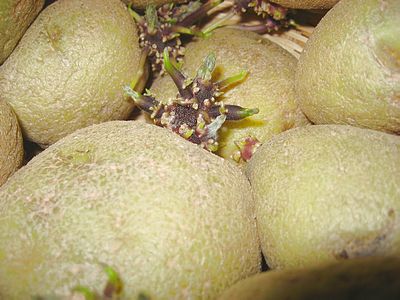 The potatoes that we bought at the market just before it closed for the season have started to sprout. I need to get them in pots, with dirt, and hibernating in a cold dark place.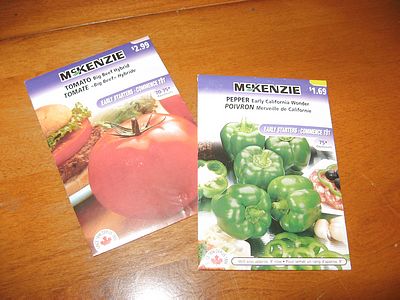 I need to not plant these seeds too soon - like right now, when there's still too many weeks left before they can be moved outdoors.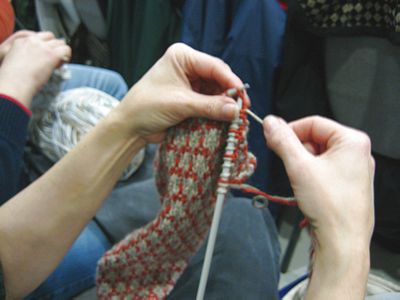 Last night, I attended a meeting of the
KW Knitters' Guild
. These are my friend Linday's hands, happily knitting away on her latest project. It was a little too dark for the speed at which her hands were moving so the picture is a little blurry.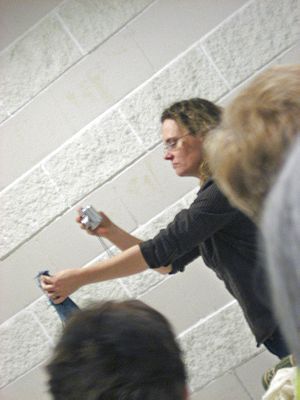 The big draw that got me out to the meeting, was this lady. The
Yarn Harlot
- or Stephanie Pearl-McGee.
Here she's taking a picture of her latest sock project meeting the audience.
Now.....I'm not a knitter. *gasp*
But I do spin (dim and archaic!), weave, naalbind, and crochet. I'm also a natural dyer, and growing natural dyes like weld, woad, dyers' broom, alkanet and madder in my garden. I'm a bit of a gardening nut.
It's not that I don't know how to knit, I just prefer to give my energy to other string crafts. I know, I know.... it's some kind of evil.
The Yarn Harlot is a very very funny lady. If I ever ran into her in a bar, I'd buy her a beer and get out of her hair so she can keep on knitting in peace. I imagine the groupie factor must be annoying sometimes.
I'm saving my geeky groupie side for
someone else
.
Karen