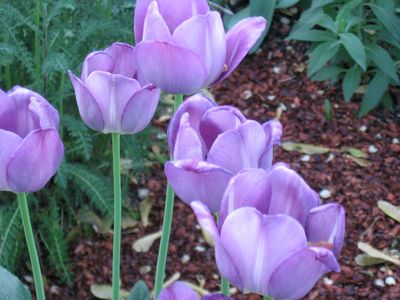 The very very last of the tulips. These pale purple tulips are great performers - they've been in bloom for almost 2 weeks by the time I took the photo a few days ago and are just starting to go.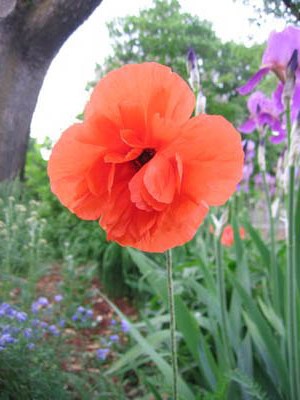 This oriential poppy is fantastic! I planted it last year but it didn't bloom until this year. I had no idea just how spectacular the bloom would be. The petals look like parchment paper, and the colour is just so dynamic.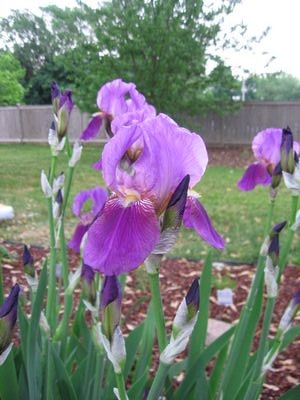 One of my favourite iris shots - there are dozens of irises in bloom in the garden now.
These next two photos are sort of the 'before' and 'after' shots of the newest garden space. I say 'sort of' because the 'before' is really mid-way through the ripping up of the grass, and they are taken from different angles, and of course, several weeks apart.
Most of the new plants are still just baby plants, so they are harder to see in the 'after' shot. The hose in the 'before' picture is the new edge of the garden. It looks smaller in the 'after' shot because it's taken from further away and the plant growth behind the new garden space is so much more developed.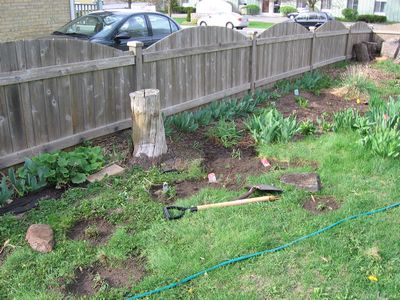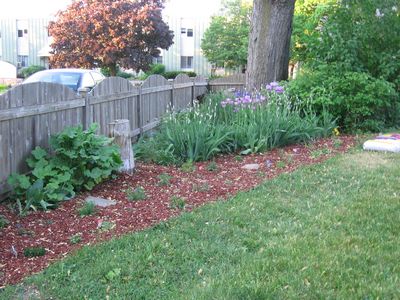 Coming up this weekend - Playing with Fire, the Viking Way. DARC's hottest new demo team will be demonstrating how to smelt iron in the Viking Era - a preliminary showing to a major demonstration in Annapolis Royal at the end of August.
I'll mostly be hiding in the screened in shade observation area, when I'm not helping out by crushing rock ore for the Annapolis Royal smelting. The boys of the demo team will be sweating their body weight out on the bellows in 30°C heat, with only a 30% chance of rain relief. Since this is a Living History demonstration, they'll be in full body wool, linen and leather - just like the Vikings of yesteryear.
Wish them luck!
Karen :)