Trust Neil to find us scotch. Oh right.... single malt distilled whiskey. Can't use the word 'scotch' because it's not made in Scotland. The Scots even tried to stop them from using the name 'Glen' but the Supreme Court of Canada beat them up.
Glenora is North America's only single malt distilled whiskey, and it's in Cape Breton. Neil bought 3 bottles.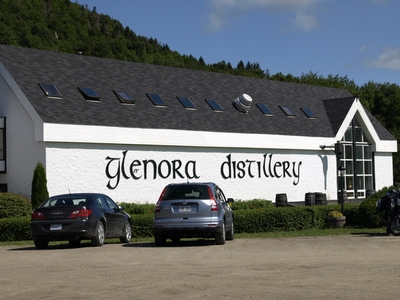 We moved on to getting to Newfoundland. There was a ferry - this great maw enveloped many 18 wheeler trucks, a few cars and trailers, RVs, and many more ordinary cars.....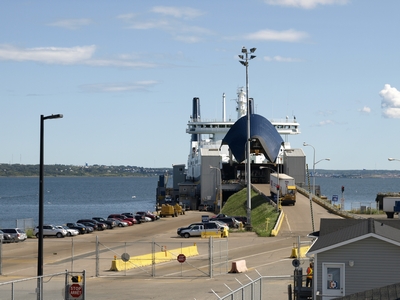 And then we pulled away from land.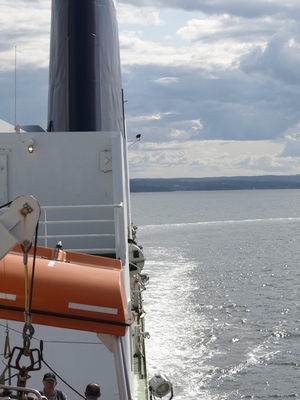 Six hours later, we arrived on The Rock dead tired and crashed in a nearby hotel. I didn't get my first real view of Newfoundland til the morning. First impression - very much like Iceland.
Second impression - not really like Iceland. Too many trees.
We spent a night in Gros Morne, and wandered the shoreline. Found this creature - a live mussel, still secreting his 'glue' that anchors him in place to all these rocks beneath him.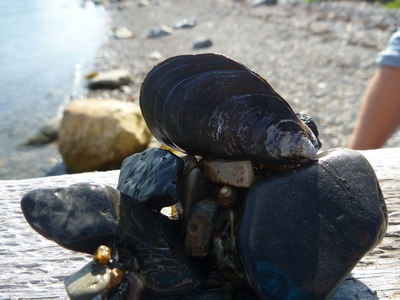 Karen