Local eating has been going on here, but picture taking and blogging about it have indeed fallen by the wayside.
On the bright side, we just had our new freezer delivered, and went out today to stock it from
Well Fed Foods
in Ayr. If you've never been to Well Fed Foods, I highly recommend it - all of the meat is local, the concept is simple, and the family that runs it is really friendly.
So... skipping OLS #6, and moving right on to OLS #7, I present.... a simple scrambled eggs.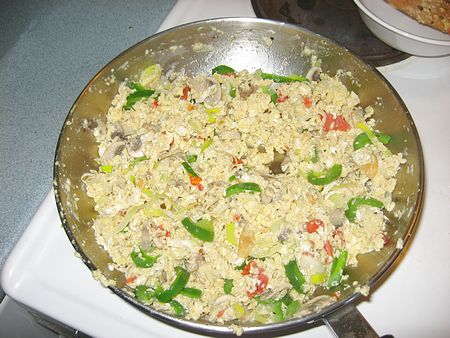 Eggs - OK Egg Farm (just north of Elmira, 25.1 km)
Green pepper, mushrooms, leeks (Herrles Market - all produce is local)
Cherry tomatoes - from my garden
Oregano - from my garden
Basil and paprika - sadly, not local
Cheese - Bright's Cheeses (Bright, approx. 28 km)
Garden pictures - coming soon! I have some new flowers to show!
Karen