It finally dawns on me that the difference between a 4 star hotel in Iceland and a 4 star hotel in Toronto is.... the city that surrounds it, in which they can find almost anything a demanding client might want, is nearly 10 times the size of the entire population of Iceland. But I suppose that's a digression....
The night before the day of Jokulsarlon. This is the Vatnajokull glacier at....oh, 10:30pm from the beach near our hotel at Hofn. So peaceful....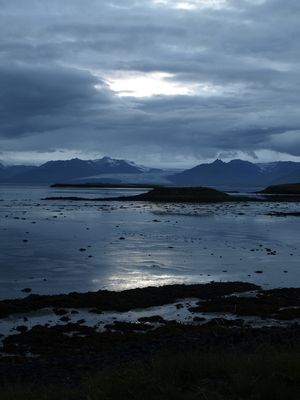 And Vatnajokull in the bright sunlight as we neared Jokulsarlon.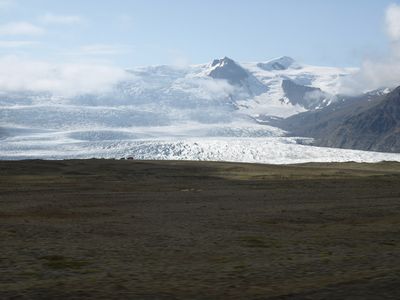 Jokulsarlon is a lagoon created by the melting of the largest glacier in Iceland, Vatnajokull. It's filled with icebergs that have broken off from the glacier and are in the process of melting as they mix with the warm currents of sea water.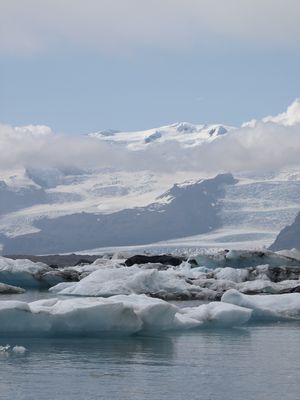 These intriguing boats will take you out into the lagoon for a brief run about, where a guide carefully explains the nature of glaciers and the formation of the lagoon, including the timelines involved. It is thought that the glaciers in Iceland were much much smaller in the Settlement period (ie, Viking Age) and that the settlers farmed areas now buried in glaciers. Imagine doing that kind of archaeology!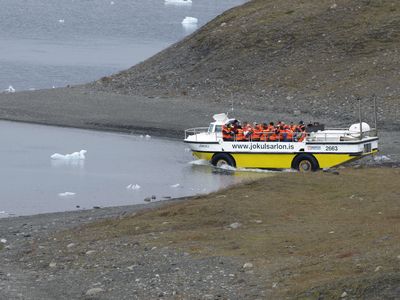 Glaciers are dirty at their leading edge, picking up the earth as it moves. When an iceberg turns over, having left all that dirt at the bottom of the lagoon, it is a beautiful crystal clear ice that slowly turns white as the sun crystallizes the surface. This is a freshly turned iceberg.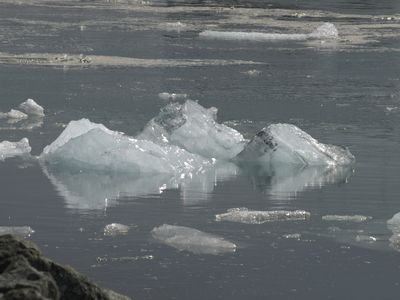 This one, Neil and I are debating.... does it look it a duck or a seal to you?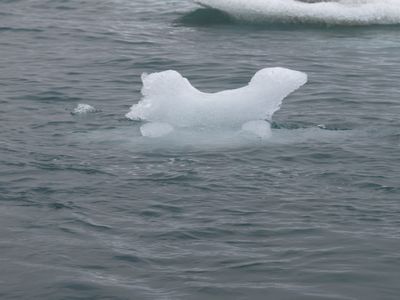 And speaking of ducks.... there is an abundance of wildlife living in or about the lagoon. And you know me, I'm a sucker for cute wildlife. Caught this cute baby duck in mid-shake....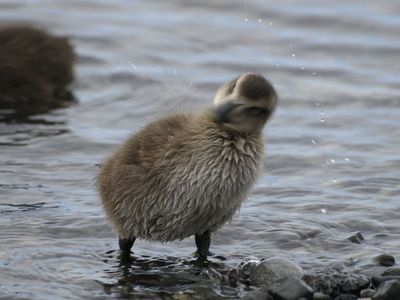 And while we were hunting for seals in the lagoon, we caught this little bird of some sort in the rocks in front of us....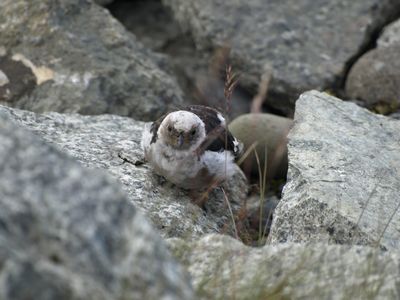 Found a seal! As the salt water of the sea mixes with the fresh water of the lagoon, seals often chase fish into the lagoon. It's an interesting mix of currents as the seawater mixes with the fresh.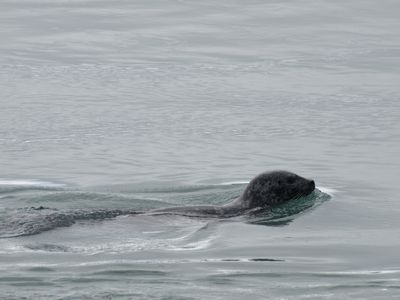 Neil caught this artic tern on an iceberg with his meal in his beak...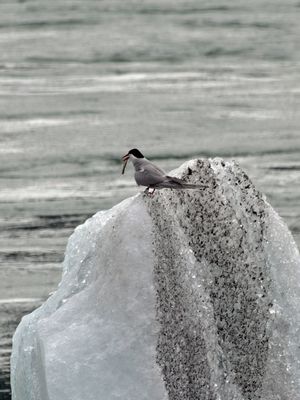 Snorri had an overview of the icebergs "Why is it always water with these people?"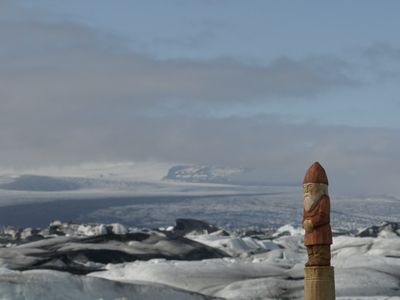 "This is so undignified...."