Just in case any of you are wondering why I'm posting more frequently, almost predictably, and the photos have been relatively inane of topic....
I'm trying a new thing, suggested by the hubby, to aim for taking and posting one new photo a week - just to work on my photography. Posting to the blog and increasing the readership is just gravy. I hope.
So....this week's topic is my workplace. I don't talk about it much. It seems somehow.... like a bad idea. But I've got a few pictures to show you. :)
We're planning on some renovations (mostly just moving people around into new space) and wonders of all wonders.... I'm told that I will finally get a window! I could have plants! This is the view a few days ago when there was still snow on the ground.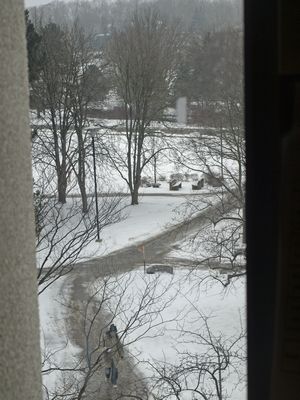 It's important to make sure that this fellow comes along for the ride. It's the gift of a former student - he's been on our whiteboard for 3 years. What's in the thought bubble keeps changing. "Goðin Dag" apparently means "Good day" in Icelandic. I'm a closet Icelandophile.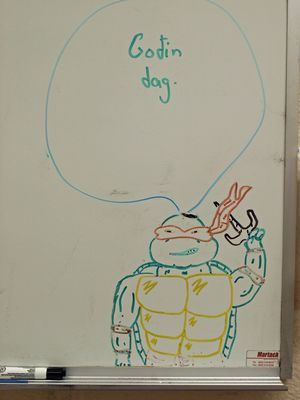 And should the view not pan out, and the turtle needs to go away.... as long as they don't change this nearby feature.... I'll be okay. His name is Porcellino.