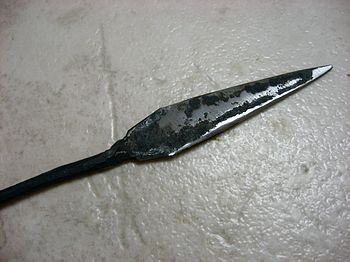 This is Neil's arrowhead. I didn't have a picture of it in the last post. He's also done some research summarizing Norse arrowhead finds from various sources. If you're interested, it's
here
.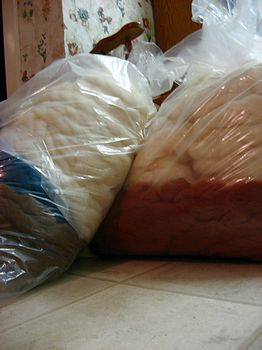 New rovings from
Wellington Fibres
! Great service, good prices, and nice people!
Some of these rovings are naturally dyed raw fleece that had become too difficult to work after dyeing. Sending them through the commercial mill to be turned into rovings really made all the difference to their spin-ability. It's not a historical process, but at least it means I'll get around to actually spinning them.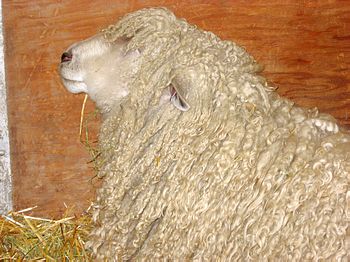 On sunday, we went to the
Royal Winter Agricultural Fair
in Toronto. We met this sheep, among many others.
I didn't see any Icelandic or Shetland sheep, surprisingly enough. There's certainly enough people raising them in Ontario.
I waved at
CraftyGrrl
(aka Mel) briefly during the fleece and shawl auction, but we didn't chat. I didn't want to distract her from the hunting. :)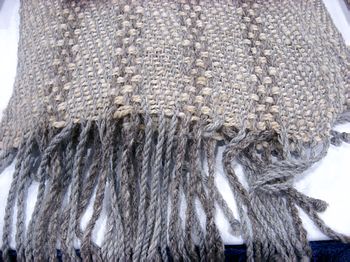 This is one of the shawls produced in the Sheep to Shawl contest - my favourite. But I haven't the foggiest which team made it.
One of the great disappointments of the Fair was that very little was well labeled. Not all of the shawls were easy to match with the team. Not all of the sheep could be identified. Not all of the fleeces for auction could be identified. It was somewhat frustrating.
The other disappointment was that there didn't appear to be a merchant selling rovings, spindles, spinning wheels, or looms. I had been hoping to poke at a few of the more expensive toys, and perhaps to pick up some exotic fiber to spin.
But the Fair was still a lot of fun. I loved wandering around the sheep, talking to the Sheep to Shawl teams - other women who actually understand the fiber hobby!
Karen