I don't mean to have an entire week between posts but ...well, things happen.
Snow, snow happens.
Remember last week, I mentioned getting a chance to do a bit of yard cleanup?
Well, this is the yard today.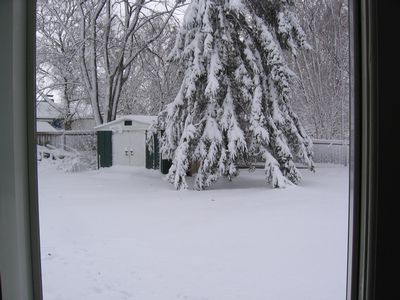 *sigh*
I washed my first fleece on saturday. Look at the yard behind me - two days ago it was green(ish).
*sigh*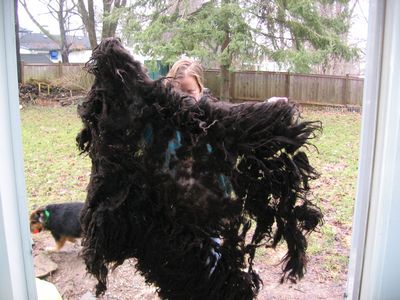 To date, all my fleece experiences have started with the shepherd washing the fleece before she sent it to me. This time around, I was present for the sheering, and claimed the fleece as it came off. That was last spring, and it's only taken me the better part of the year to get around to washing it. It's a black Icelandic.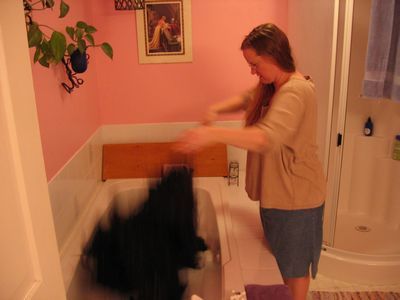 And yes, those are the famed freshly pink walls behind me.
It was.... dirtier then expected. Having no idea what to expect and all.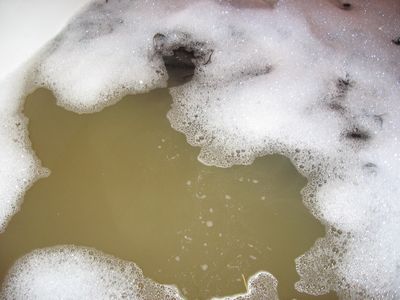 I'll post pictures once it's dry and combed. And again later, when some of it's been spun.
Today, I'm working on the
Forward Into the Past
website. We're just getting started on this year's organization, so the courses available are still sparse, compared to what we will have, but feel free to check it out.
Neil and I run this thing, a day long set of classes in medieval history, every year. It's quite a lot of fun, and totally exhausting. At least for the organizers. :) If you're in the Kitchener-Waterloo area of southwestern Ontario on the first of April, come and check it out. No fooling!
Karen