Three folks have commented on the food so far. Trust me, it won't be so exciting once we're established at the field school in another day. I expect it will be pretty standardized student food but I will endeavor to make it *look* exciting once in awhile.
I took pictures of last night's dinner but first let me tell you about the day itself. 8 hours in a mini-bus with the overly talkative driver on a "Viking" day tour. Right off the top, we had this inkling of trouble when he decided to use the "new" definition of the Viking Age as 400 - 1300 AD instead of the more traditional 793 - 1066 definition that we're used to using. He was straightforward about it, right up front. Apparently this means one can include a lot of gothic churches in the tour.
To be fair, there was an awful lot of interesting things to see and he had some interesting theories on the Viking Age to share, but the fellow just wouldn't shut up long enough for interaction or reflection or the chance to absorb through other means. Neil and I are both readers and like the chance to read the signs at places too.
Stops included (thefted from Neil's notes):
- Jarlabankes Bro (old viking bridge) - two runestones, some other stones
- Arkils Tingplats - local thing site, and another runestone
- Church at Vallentuna
- Granby
- Lunda (from bus - no place to park)
- Sigtuna (lunch)
- Gamla (old) Uppsala - mounds from the 500-600 with the Uppsala museum. Lots of fun things to get photos of, and beads in the gift shop - not enough time here, but on our way out we did notice that the kind folks at the museum hadn't bothered to enforce the "no pictures" they have posted - we are grateful
- Uppsala - the Uppsala Catheral - construction began in 1287 with a focal point about King Gustav I
This is the runestone at Jarlabanke Bro.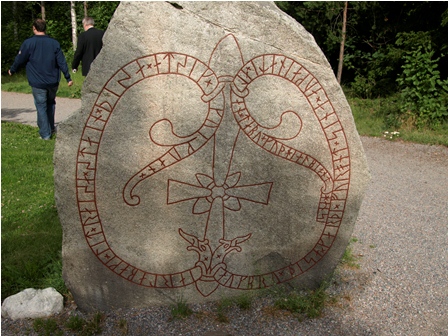 And in Sigtuna, where we stopped for lunch, we saw this interesting use of a faering. We thought some of the parents in our friends might enjoy the idea. It's a sandbox.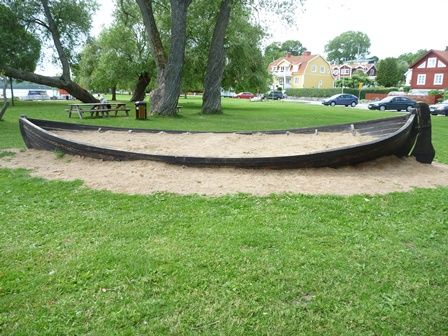 Now.... dinner at Pontus by the Sea in old Stockholm. Although the site in general is all in Swedish, here's a link to the
english menu
. It is a lovely restaurant, quite literally on the sea-side in Stockholm. We watched boats come in, people of all sorts walking by on the boardwalk, observed the weather and skyline of the city.... and ate delicious food.
Here's Neil getting drifty with the scenery.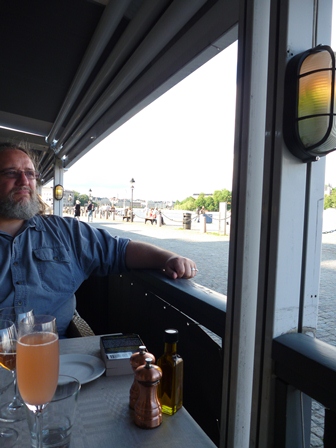 My food - char with lemon foam and dill pesto.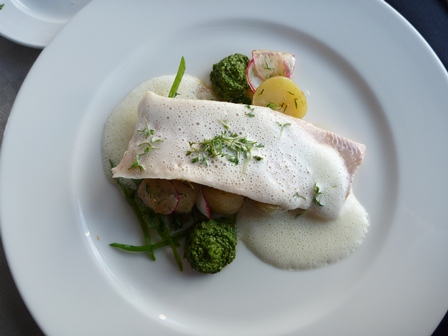 Neil's choice - cod with shrimp and butter (again with the butter!).
And my dessert - fresh strawberries are a big thing at Midsummers in Sweden. Neil had a creme brulee.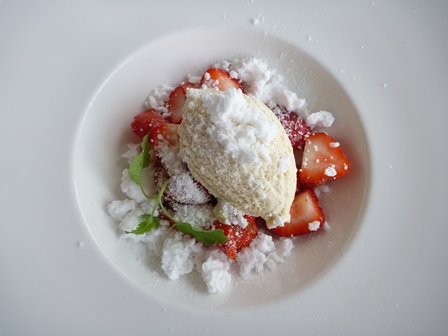 Today we leave for Gotland - we'll have one night in Visby before we report to the school on Monday. Work starts on the Tuesday.
By the by, I have neglected to mention the window dressings at the Hotel Rival. They have what amounts to blackout cloth! As I've mentioned the northern climes are no fun for the light sensitive sleeper, but this is not a problem at the Rival :)