Bunches of interesting things this weekend. Met up with friends in the Dark Ages Recreation Company to learn how to make turnshoes. We're using modern tools, but the end product should be pretty much the same as Viking Era shoes.
This is our teacher, working on a pair of shoes for his daughter while we're all off on earlier steps in the process.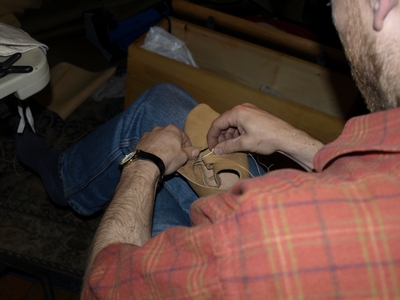 Our hosts for the weekend have beautiful garden spaces and right now, their tulips are in full bloom. Long time readers will likely realize that I have a special thing for tulips. :)
This picture seems to have turned out pretty darned well. I like the luminous sunlight and slight fuzziness around the edges of the photo.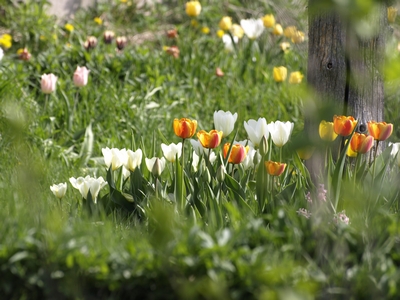 They also have chickens. I think this is the rooster.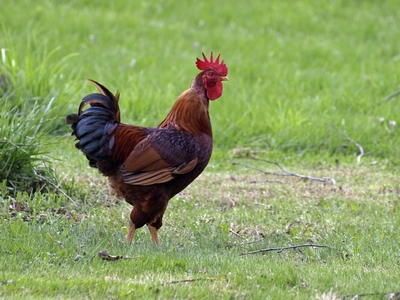 And horses, and cats, and a deeply peaceful farm out in the boondocks of Ontario. Sitting on the porch in the early morning ... it was so peaceful.
Our host was
Grondzilla
and his partner, who dislikes seeing her name in print. Grondzilla has been engaged in a commitment to blog every day for a year. I'm intrigued by the idea. I briefly considered the idea. Generally speaking, I update my Facebook status once a day anyway.
But I'd have to be crazy to consider it right now. DARC is gearing up pretty heavily for a gig at L'Anse aux Meadows in August, my boss just went on mat leave again leaving me busier at work, and there's that gardening thing. I have way too much to do these days already.