Went to see the new
Cirque du Soliel
show -
Ovo
- in Toronto recently.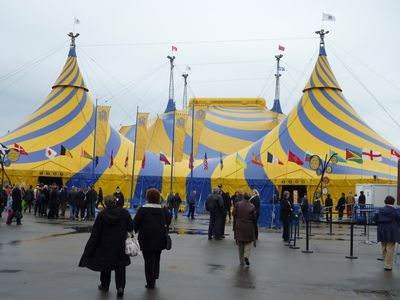 The show was a matinee so I took the whole day off. Neil worked the morning - he tends to be more gung-ho that way. Gets paid more for his dedication. I packed and lounged around the house.
Ate bad food at a fast food place on the way out. Had time to check into our favourite hotel before the show. I love the
Cosmopolitian
. It's technically just outside of the business district in Toronto, but you could throw a stone at it. The views are fantastic from the windows (we could even see the big tops of the Cirque on the waterfront), and the place is so Zen-like.
Meandered over to the Cirque tents and settled in to be entertained for a few hours. Lots of kids in Halloween costumes in the audience. The little girl next to us was so fascinated by the show, we hardly heard a peep out of her.
The little girl inside me was so fascinated I hardly moved myself. :)
After the Cirque let out, we meandered up to
Vertical Restaurant
. I'm always interested in trying new high end restaurants when we come to Toronto. I'm looking for that perfect mix of a quiet atmosphere, unobtrusive but friendly service, and food so good that it challenges perceptions and delights the senses. Vertical comes so close..... but I am getting harder and harder to please as I gain more experience in high end food.
I'm looking for that stillness that comes down around me when it's just about the experience right there in front of me and everything else fades away. High expectations, I know, but I've been there.
Anyway - excellent service, reasonably quiet atmosphere, good mix of music in the background, and the food was excellent. Not transporting, but there it is. We opted to split the appetizer in order to indulge in the Italian mult-course experience. New food experience - grilled octopus! Then we both had the half size portions of the lobster tagliatelle, and he had the black cod and I had ummm.... darn, it escapes me... another fish. We both had the creme catalana for dessert.
Although the fish was perfectly cooked, and the veggies a nice mix that worked well together, I think the dish needed a little dribbling of some sort of sauce to pull it altogether.
It was a beautiful night as we walked back to the hotel some 2 hours later, much relaxed. He walked, I limped - haven't worn those heels in quite awhile and they were trying to break my feet in again.
The next day we went shopping!
Efston Science
and Capital Leather and Findings managed to eat a few of our dollars respectively. At some point, Neil turned to me and expressed the feeling that it feels like we've had a full weekend already and how delightful it was that we still had another day before having to go back to work again. I was feeling the same darn thing. :)
Drove home to mundane food and candy handing out duties, shamelessly eating all the good stuff and giving out the stuff we didn't want. Did not get as many kids as most years so we've had to clean up the leftover candy this week. It's been tough. :)
Weaving with the handspun is progressing, but it's difficult to get a good picture of it. I've broken 5 of an original 120 warp threads so far, just in these first 4 rows of weaving. I'm hoping it will settle out and find a stable point of weaving. I'm having no end of grief with opening one of the sheds.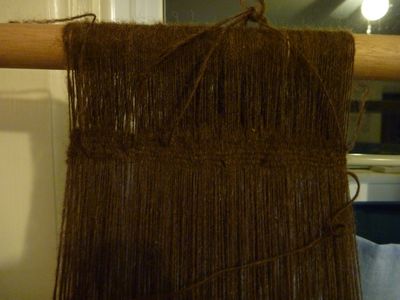 Karen