Well now, last year's trip got blogged about on the road, almost every day we were gone. This year? Not so much.
We've been back home now for a few days and I've been unpacking and doing laundry and gardening and playing with the pictures. Neil pretty much went right back to work. I have more available vacation time so I took more time. I'm back to the grindstone on Monday.
Anyway, without further ado then.... a few pictures.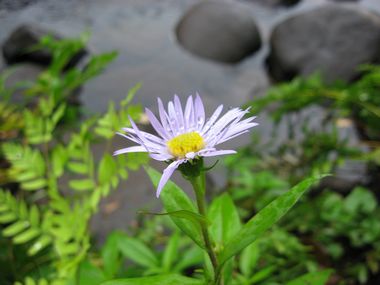 This is from our last day through the Adirondaks. It was overcast and rainy through most of the trip, but I found this lovely flower growing by one of our stops.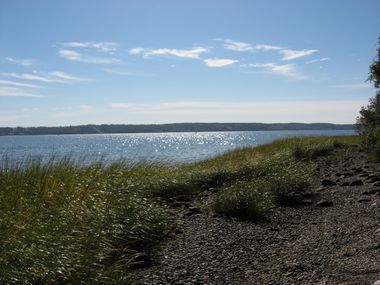 Got to the Haffenreffer Museum, and while I completely forgot to take any pictures of the Museum itself.... I did take a picture of their beach. Apparently, I have a strong preference for nature shots.
The
DARC
folks are referred here by their re-enactment names.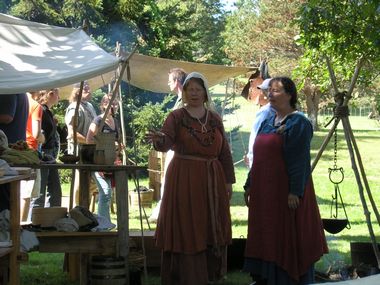 Bera and Unn talk over some changes to their area.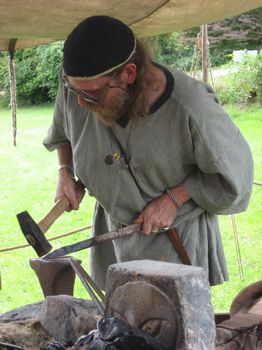 Ketill beats on some hot metal - he's our blacksmith.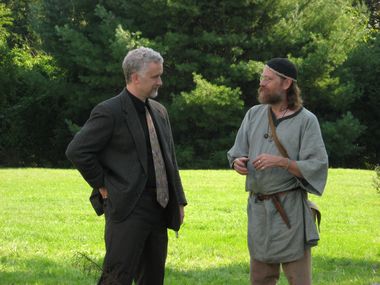 Ketill lectures Kevin Smith, the Chief Curator and Deputy Director of the
Haffenreffer Museum
.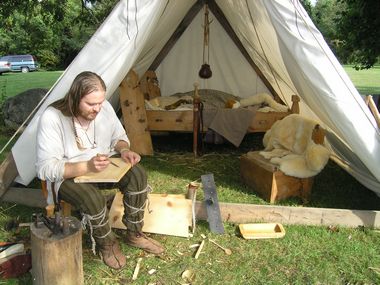 Grimmi sits in front of one of the typical Norse a-frame tents.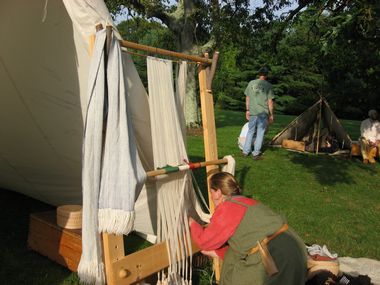 This is me in front of my warp-weighted loom. I also demonstrated spinning with a drop spindle, how to separate tog and thel in Icelandic sheep fleece, and some of the colours that I've gotten from natural dyes.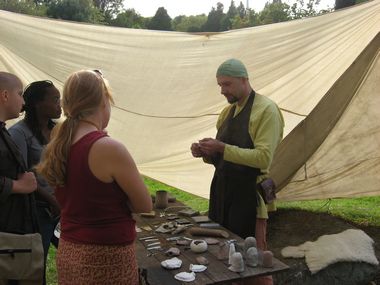 Kjarval talks to some of the folks who came to visit.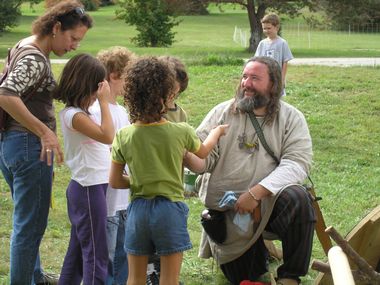 Ragnarr talks to some of the other visitors. He sent an awful lot of little girls my way to learn how to spin, in order that they have proper skills to nab a husband.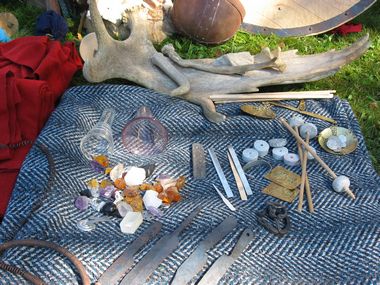 These are some of Ragnarr's trade goods. Too bad that we weren't allowed to really trade things. Could have been fun.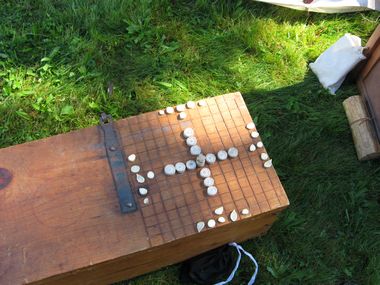 This is a game called Hnefatafl - tafl for short. Neil (the hubby, aka Ragnarr) has articles on how to play the game
here
, and Darrell and Neil also sell a version of the game
here
.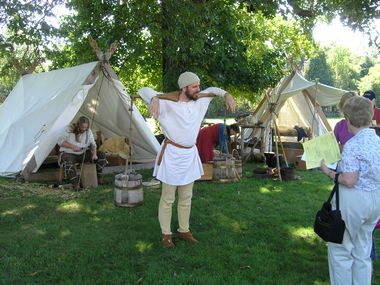 Rig fetches some water for the kitchen area.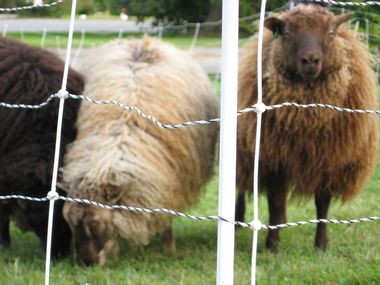 Windborne Farms
brought some of their Icelandic sheep for people to gawk at. Icelandic sheep have a distinctive look to them. Most have horns - Windborne has polled all of their sheep. Icelandic sheep also have two distinctive parts to their fleece - one of the very few breeds left that have not been gentically altered over the past thousand years. Tog is the long hairy outer coat, and the thel is the short downy undercoat.
I think they're pretty.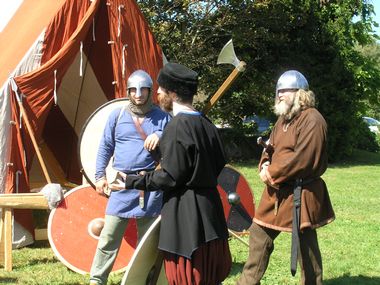 These are some of the folks from the
Higgins Armory
. They came out this year to round out the demonstration with a combat display.
And then.....on Monday, the boys went scuba-diving and I got a whole bunch of neat shots of the area. But I think at this point, I'll wait a day or two for the next post. This one's plenty long enough as it is.
Karen